Our first date was a hockey game, I know I hated hockey, but I wanted to spend time with this handsome prince, whom I felt so comfortable with. And by the time the game ended, I knew we had something that was very special. My lord was tall and handsome, warm, enchanting, romantic, shall I go on? As time went on, we spent all of our time together. The holidays were warm and romantic and lead us to the most romantic Valentines Day I have ever had
I wanted a nice romantic evening at the castle in Brandon. I spent the day at the market fair shopping for dinner, special wine, My Lords favorite, Lady Godiva's chocolate covered strawberries, and champagne. Oh and a few hours at Lady Victoria's!! I had a wonderfully romantic evening planned.
With candlelight and lovely music playing, I met my lord at the gate with a glass of wine. After a glass of wine, and exchanging gifts, Lord Paul gave me a card to open. "This celebration calls for bubbly!" And inside the card: CONGRATULATIONS ON YOUR ENGAGEMENT! What the … I thought, as I looked back at My Lord Paul? There he was, on one knee, with this gorgeous emerald and diamond ring, is my prince charming, who I love with all my heart, asking me to marry him. That my friends, is what leads us to; Our Wedding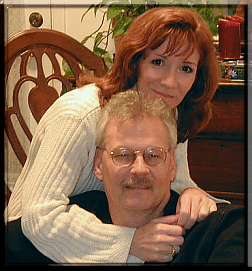 Our Engagement
Valentines Day Feb 14 2001
My lords and ladies now for the first date. This took a little planning since I enjoyed hockey and she did not. So when I first approached my lady about going to a hockey game, I was surprised at the response. My lady appears to have a dislike for the sport. But, upon a second attempt at requesting my ladies presence at a hockey game, she agreed. Now what was going through my mind was she must really want to be in the presence of this lord considering she does not like hockey. Well, the appointed evening arrived and I could not have asked for a more exciting match. Her ladyship was won over, she found that she enjoyed the evenings events. So when I requested to see her ladyship again she graciously accepted.
So, the courting continued until that faithful day in February. That date was the 14th, Valentines Day. On that day I asked my lady to be my bride forever more. But, I get ahead of myself. I wanted the day to be special and a surprise. So, I conspired for it to be so. The evening was set for dinner at the castle. A bottle of wine, and of course the surprise. Her ladyship had some surprises in store for me. First of the surprises was that her ladyship met me at the door, with a glass of wine in her most attractive eveningwear. Making it very clear how the evening was to unfold. Her ladyship led me inside her realm to an awaiting feast which she prepared leaving no detail forgotten.
We decided to exchange our cards and gifts before the feast. I decided this was the time to request her ladyships hand in marriage. I presented her with a card that on the surface was a bit confusing to her ladyship. On the cover it stated "This celebration calls for bubbly!" When she opened the card, it said, CONGRATULATIONS ON YOUR ENGAGEMENT! It took her a moment to realize my intent. Her ladyship had no doubt in her mind as at that moment I was presenting her with an emerald engagement ring. Her ladyship accepted in an emotional state of glee. So, as I stand upon the eve of a new beginning for our two families there is no other lady that has captured my heart as my Lady Cas.